Host Liquor Liability
June 29, 2016
We are reminding you of the potential for Liquor Liability when you serve alcohol to your guests during this time of graduations, weddings, bar mitzvahs, and 4th of July just around the corner! During such festivities there is always fun, laughter and the enjoying of your family and friends. Don't ruin these special occasions by being un-prepared for the unexpected.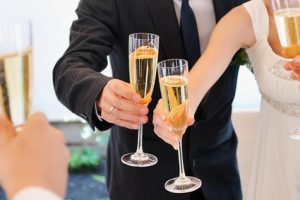 Host liquor liability damages are generally insurable under standard general liability policies, but you will want to go over the coverage with your broker to understand your limits. Host Liquor Liability provides coverage for bodily injury (BI) and property damage (PD) arising out of the serving or distribution of alcoholic beverages by a party not engaged in this activity as a business enterprise.
Wherever the party location is actually held, your liability insurance goes with you. However, if you rent a location you must add that location to your policy temporarily as an "insured location" for premises liability and medical payments coverage to apply. The act of hiring a caterer to serve food and alcohol does not exclude your host liquor liability. But, if you cater the event and the venue or caterer sells the alcohol then they assume the liquor liability exposure. You should verify that they have liquor liability insurance by requesting proof of insurance.
Other Host Liquor Liability situations
Personally hosted parties – Your personal liability coverage is provided as a component of your Homeowners, Condo, or Tenants (Renters) Insurance policy. Check your liability coverage limit with your broker. If the liability limit is of concern, consider a personal excess liability (umbrella) policy with standard limits of $1,000,000 to $5,000,000.
Business or office hosted parties – You and your business entity would be insured under a Commercial General Liability policy (or as a section to your Business Owners or Package Policy). Coverage is not excluded for a party you host where alcohol is not sold by you. Check your liability limit with your broker. For increased limits or limits over $1,000,000 please contact us.
Special Event Liability – If you are hosting a party and don't have Personal or Commercial Liability coverage then you can purchase a separate policy for Special Event Liability. Contact us for more information.
At The Armstrong Company Insurance Consultants our experienced licensed representatives can help you find the right coverages you need by evaluating your particular risks. Contact the Armstrong Company Insurance Consultants today at 866-990-9286.  We are here to work for you!
The Armstrong Company Insurance Consultants (License #0440075)