Is Your Business Covered For Employment Practices Liability?
April 19, 2018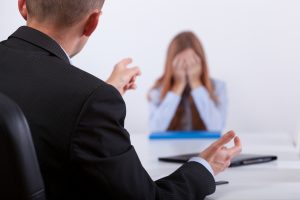 A Business Insurance Update
Today more than ever employees know their rights under the law. Over the years, the United States has created many federal laws and statutes to protect the rights of individuals including; Title VII of the Civil Rights Act of 1964, Title I and Title V of the Americans with Disability Act of 1990, The Age Discrimination in Employment Act of 1967, as well as many other state laws. These laws require employers to act in accordance with a very specific set of requirements and give employees the right to file lawsuits for any perceived violations.
There are many reasons why an employee might make a claim against his or her employer. Common allegations include wrongful termination, discrimination, harassment and even failure to promote. In an economic downturn, employers tend to have layoffs resulting in wrongful termination allegations. We also know that comments can be viewed as inappropriate whether intentional or just a poor choice of words and a poorly phrased remark can lead to harassment allegations.
An Employment Practices Liability Insurance (EPLI) policy provides coverage for claims and lawsuits brought against an employer, its officers, directors, employees, and managers arising out of employee relationships. EPLI policies generally cover charges in the following areas:
Discrimination – including age, sex, and gender
Sexual harassment
Invasion of privacy
Emotional distress or mental anguish
Wrongful termination or discipline
Negligent compensation, promotion or hiring decisions
Employee benefits mismanagement
Breach of contract for employment
An EPLI policy will defend the organization and pay covered damages awarded under the terms, conditions, and limits of the policy. Most EPLI policies offer free legal assistance programs. This gives you the opportunity to contact an experienced legal firm to help assist you through an employment issue before it turns into a claim.  EPLI policies are written on a "claims made" form, which means it provides insurance coverage for claims that occurred and are made during the policy term or within an extended reporting period if selected. Some EPLI policies contain exclusions that limit coverage during events such as a major workforce reduction, acquisition or merger. Generally, criminal conduct is not covered by an EPLI policy.
The Armstrong Company Insurance Consultants is an independent insurance broker – meaning we do business with multiple insurance companies and compare protection and prices to find the best value for you. We're not computers – we are real, live members of the community, and we're committed to being your advocate in times of need.