Common Causes of Hotel Injuries
March 29, 2016
When assessing the risks and hazards in your resort there are some key areas in which to consider for the safety of employees and guests.
Swimming pools – We all know the dangers of swimming pools.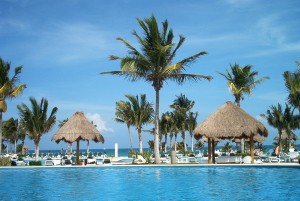 When the perimeter area is too smooth, a guest or employee can easily fall. Because the surface is often partially made of concrete, a fallen individual can suffer serious injuries. Improperly marked steps inside a pool can cause a guest losing footing also resulting in injury. Make sure to have proper signage, flooring and matting in key areas around pools and hot tubs.
Broken furniture – Overtime, furniture can break down from use. Eventually, a guest's weight can be enough to make a chair collapse. Keep current inventory and inspection lists of furniture and hold accountable the proper personnel responsible for furniture repair and replacement.
Slip and falls – Slips, trips and falls frequently occur when there's a difference or transition in flooring from one area to another. Worn carpeting and cracked or uneven flooring can cause a guest or employee to catch a heel or toe, often resulting in a fall. Bunched rubber matting at entries and exits are also invitations for a slip and fall. Your resort should have a plan for slip and fall prevention.
Food poisoning – There are many ways that restaurant food can cause illness to a customer. Undercooked meats, improper refrigeration, unsanitary kitchen conditions, unclean hands of food service staff, and improperly sterilized utensils can all transfer bacteria to guests. Keep updated procedures on the handling, preparing, serving and cleaning of any food or drink stations at your resort.
Bed bugs – Bed bugs are very small insects that can infest hotel mattresses, pillows, furniture, and even light switches. They are hard to see with the naked eye and are very difficult to eradicate. Bed bug bites can cause small blisters that sometimes don't appear for hours, or even days after contact. Guests can also carry them home in clothes and suitcases. It can cost thousands of dollars to eradicate the bugs once infestation occurs.  Keep updated procedures on the inspection of mattresses for bed bugs.
Burns – Burns can occur when hotels set hot water thermostats too high. Showerheads can flow scalding water on an unsuspecting guest, resulting in first- and sometimes second-degree burns. Irons with faulty gauges or switches that fail to shut down properly can also easily burn a guest.  Have maintenance procedures on inspection guidelines for these items.
Acts of Third Parties – Guests, especially unsuspecting tourists and vacationers, often drop their guard while at hotels. For example, they carry cash and wear expensive jewelry instead of leaving them in the hotel's safe.   They may not be as diligent about personal safety measures or protecting their identity when traveling. All of these tendencies make guests an easy target for the harmful acts of third parties. When a hotel fails to provide adequate security, they leave their guests' privacy and safety threatened. Review your guest safety and security policy on a regular basis to safeguard against the acts of third parties. Be certain to include technology/cyber protection as part of your overall security program.
At the Armstrong Company Insurance Consultants, our team has extensive experience in handling Condominium HOAs and Timeshare Companies nationwide and we are well educated on the risks associated with both. Contact us today and let one of our licensed representatives customize a plan for your needs. We strive to educate our clients through risk assessment and mitigation methods including; disaster preparedness, proper insurance coverage, and loss remediation.
The Armstrong Company Insurance Consultants  (License #0440075)